'A global conference that crosses disciplines like no other'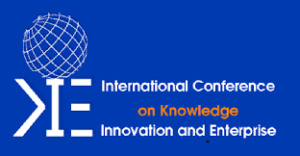 The International Conference On Knowledge, Innovation and Enterprise came out of a larger conference on innovation and entrepreneurship that has been going on for more than a quarter of a century. The KIE was borne out of a desire to emphasize the criticality of knowledge and creativity in innovation. The KIE is a member of the World Education Fellowship, the world's oldest international educational science learned society, has has held conferences in different location around the globe in the last decade.
There has been a number of annual international conferences on innovation, entrepreneurship (not enterprise) and knowledge transfer in recent years, but none has really attempted to provide a common, fertile global platform for practitioners and subject experts in the fields to cross-fertilise ideas and provide insights into emerging issues and challenges. The International  Conference on Knowledge, Innovation and Enterprise (KIE Conference) fills this gap. Add this to the KIE conference innovation – the five in-filled events, E. Paul Torrance International Roundtable on Creative Thinking, The Reisman Diagnostic Creativity Assessment Special Interest Group (RDCA SIG), Global Comparative & International Education Forum Roundtable, Alan, Nadeen, James Kaufman Research Symposium, and Big Data Analytics & E-Business Symposium – the result is a truly global cross disciplines conference.
As I look forward to meeting up with you in Madrid, Spain on 21 July 2020, I hope your contribution at the conference will help our global economies to strengthen the links in the knowledge, creativity, innovation and enterprise chain.
James Ogunleye, PhD, FRSA
Chairman 2020 KIE Conference
_________________________________________